Direct Approach News!
SpecTrend™
Your Mix's Spectral Trend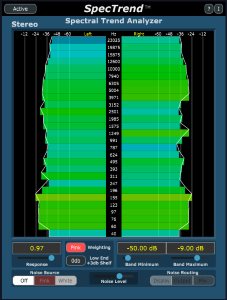 Only $49.99!
Hello!
The response to our SpecTrend™ plugin has exceeded all expectations! A great many people have recognized it as a must-have tool for mixing! SpecTrend™'s 1/3 third octave pink noise weighted meter visually allows you to see each frequency band at the same level. So, it is easy to see what aspect of the mix needs a level or EQ adjustment. The color coding of the individual frequency bands additionally makes it easy to see what is too loud or too soft. This is the mix tool that permits you to objectively see if the mix is balanced, both in frequency and levels, making it a huge time saver and expert mix assistant! And with the free trial, you can see for yourself what a time-saver, and sanity-check, SpecTrend™ can be for you! For even more details, see our blog, https://www.theRecordingMusician.com and scroll down to the SpecTrend™ article.
Pro Tip: The frequency markings for each SpecTrend™ 1/3 octave band currently show the upper limit of each band. This allows you to know which frequencies are outside the range of the band in question. This is especially useful with low pass and high pass EQ bands. Plus, we are working on an update that will allow you to switch between displaying the upper limit or the center frequency for each band. SpecTrend™ is great now, and we will always add features to make it even better!
Your login access to our website means that you are automatically entered into our Monthly Free Plugin Contest! No purchase is necessary. Simply create a free login account, and you are entered. Then, each month a winner will be chosen to receive one of our plugins, of their choice, for free! So, get all your musical friends to sign up. The login account is free, and you may win one of our plugins, absolutely free!
Direct Approach,
Your Sound, Only Better!
www.directap.com - visit our website to see all of our products!.
Downloads Page - click here to find our downloads. Free login account required.
theRecordingMusician.com - our BLOG site with information for those who record one track at a time.
Billy Wall - Official Website - the music of Billy Wall.
---
SpecTrend™ - 1/3 Octave Pink Weighted Spectral Display that shows all frequencies at the same level for a balanced mix!
---
BoostX™ - bring up those low levels so they sit in the mix, and make easy adjustments to mix balance, plus dynamics automation!
---
LimitX™ - transparently control digital overs by intelligently adjusting samples, and read/write dynamics automation!
---
Snap!™ - put back the attack to add life into your tracks. Effective way to improve transients, and even automate the dynamics!
---
DASR™ - our new de-esser with the unique ability to read/write dynamics processor automation!
---
CompPlus™ - our unique compressor with articulation, does gain riding as well as compression, with read/write of the dynamics processor automation!
---
Free Plugin Contest - free plugin license chosen from our login accounts each month!
---
Downloads Page
download plugins for 64bit Mac and PC, VST, VST3, AU, AAX.
Free login account required.
© Direct Approach 2018
To Unsubscribe go to https://www.directap.com/Account/Manage login and click Unsubscribe.